My college graduation was one of the most boring days of my life. My parents were insistent that I take part in the ceremony, but considering I was one of hundreds graduating with a liberal arts degree, it was a long one.
There were close to 700 kids in my high school class, so that day wasn't much better.
I vaguely remember an awards assembly at the end of middle school… during school hours… that my parents did not attend.
But pre-k? No, I can't say that I remember how that graduation went down. I'm guessing because there wasn't one.
Imagine my surprise and delight when I found out my little man would be participating in his very own graduation – cap and gown and all!
I doubt that Miles will even remember the events of the day, but his school went all out and I have the soggy tissues to show for it.
The bulk of the program was made up of songs performed by all the graduates, and while that was great, there was one very special surprise for me. Toward the end of the ceremony, one of the teachers said:
"And now a special presentation from Miles Fowler…"
My face at that moment: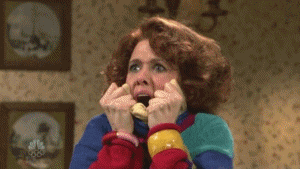 I had no idea this was coming, so watching him read a message of appreciation to all the teachers, family, and friends was an amazing and emotional surprise.
You never think of pre-k graduation as one of life's major milestones, probably because it's not…to Miles anyway. I think pre-k graduation was more of a milestone for me.
I feel so lucky to have my son; he's smart and funny and kind. I never thought the transition from pre-k to kindergarten would feel like such a big deal, but it really did!
Who knows what the future holds for my little man? All I do know is that I'm excited to find out. Elementary school, here we come…
Look at this face — PURE JOY!